Welcome to the Virginia Commonwealth University Rehabilitation Research and Training Center on Employment of People with Physical Disabilities. The purpose of the VCU-RRTC is to conduct advanced research, training, technical assistance, and dissemination activities specifically to improve the employment outcomes of individuals with physical disabilities. More
Accommodations Corner
Job accommodations are modifications to a job or the way a job is performed that enables qualified people with disabilities to perform the essential functions of their positions.
Examples of Job Accommodations
Do you have an example of an accommodation that you would like to share on our website? Please submit it to us for consideration.
Submit your Accommodations
Headlines
Browse current topics on physical disabilities from the national news.
View Headlines
Follow us on Pinterest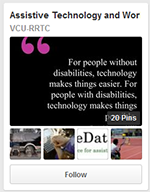 Research Database
The RRTC invites you to recommend research articles on employment of people with physical disabilities to be included in the research database.
Submit an Article